Managing Directors
Mission Director: Kendra Phillips, Food Pantry Director: Deon Phillips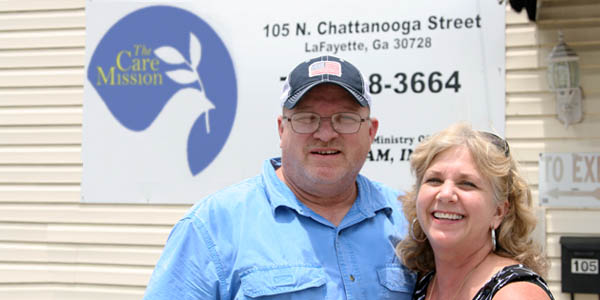 Kendra (57) and Deon (58) have been married for 31 years. Deon has lived in north Georgia his entire life, while Kendra moved from Cincinnati, Ohio to Atlanta, GA when she was 11, then to the Chattanooga area 10 years later. They have four children and three grandchildren. They had a home repair/remodeling business for 18 years while also doing youth ministry and foreign and local mission work.
Deon is a founding member and CFO of Here I Am, Inc., a 501 c 3 non-profit corporation established in 2000 to assist hurting individuals and families in a variety of ways, which led to the opening of the Care Mission in 2005. Deon serves as the Food Pantry Manager at the mission.  Kendra is the CEO of Here I Am, Inc. and the Care Mission Director.
Though neither are ordained ministers, the couple has served in some sort of ministry-missions work since the early 1990's.  These have included multiple trips to third world nations and relief efforts within the United States, youth ministry, prison ministry, music ministry and other forms of service centered evangelism.
After serving 2 ½ years as Assistant Director of a food pantry ministry in Catoosa County, the Holy Spirit inspired Kendra to open the Care Mission to meet the clear need in Walker County.  With the support of Here I Am, Inc. the mission opened its doors in June 2005 and in October 2006 the couple closed its home repair business to work full time in this mission field.