About Us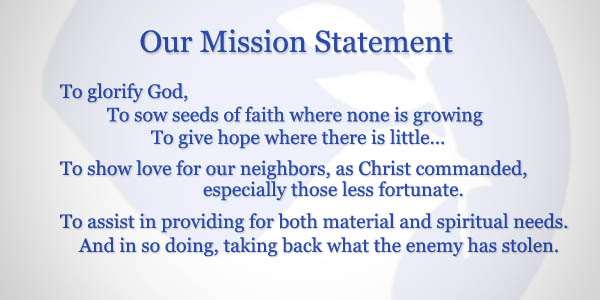 Our History
The Care Mission opened June 2005 under the authority of Here I Am, Inc., a 501 c 3 faith-based non-profit corporation.  Director Kendra Phillips and husband, Deon, oversee the Food Pantry.  While serving at a food pantry in another county, Kendra realized that there was a huge need for this sort of ministry in Walker County.
God gave Kendra a vision and today that vision is alive and well.
How We Operate
Here I Am, Inc. is a 501 c 3 non-profit which consist of its Board of Directors and membership. We provide assistance to hurting families in a variety of ways, the most visible being the work done through the Care Mission's food pantry and thrift store. The daily operation of the Care Mission is led by our Managing Directors. They are made accountable by the Here I Am, Inc. Board of Directors. A quarterly board meeting is held at the Care Mission at 6:00 pm, usually on the last Monday of January, April, July and October. These meetings are open to the public.
In 2016, God provided our funding through:
22.8% Corporations/Civic Groups
23% Church/Church Groups
8.6% Thrift Store Sales*
45.6% Individuals, like YOU!
*Our Thrift Store closed in June, 2016
God provides food for our pantry through:
48% Purchased from Feed America Agencies, such as the Chattanooga Food Bank, Atlanta Food Bank, USDA Food Assistance Program, and Georgia Nutrition Assistance Program
52% Donated by various food drives, area farmers, Feed America Partners and other retail agencies, such as Wal-Mart and Panera Bread
What does the word "mission" mean to you?
In July 2009, we went on a mission trip to Nicaragua.  Click below to see a clip of a documentary, and find out what the word "mission" means to us.